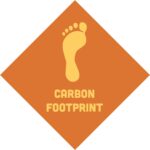 'Carbon Footprint' is the total greenhouse gas emissions caused and expressed in terms of the carbon dioxide equivalent emitted.
Burning fossil fuels, clearing land, manufacturing goods and many other things all produce greenhouse gases (carbon dioxide, methane, hydrofluorocarbons, and others).  Everyone uses products and services every day that emit greenhouse gases all the time.  But are you conscious of how much you contribute by your decisions?
According to The Nature Conservancy, in 2021 the average carbon footprint of a U.S. citizen was 16 tons ("What is your carbon footprint?"  The Nature Conservancy.  Accessed 18 December 2022.)
Carbon Footprint Calculators:
The Nature Conservancy Carbon Footprint Calculator
Environmental Protection Agency of the United States
(These calculators are for households and individuals but are easy to use to obtain a benchmark.)
Greener Life Certified Members:
strive to lower the carbon footprint one decision at a time, especially in terms of each buying decision.
demonstrate progress to the goal of carbon neutrality.
distinguish between 'carbon friendly' and progress towards carbon neutrality.
share how each effort actually reduced the carbon footprint.
Examples include:
packaging (recyclable and re-usable)
less energy consumption
less vehicle use
storage methods
shifting to LED lights
rethinking the source of their own product inputs
Additional ideas and innovations, no matter how small, are welcome.